Dropshipping jewellery: A how-to guide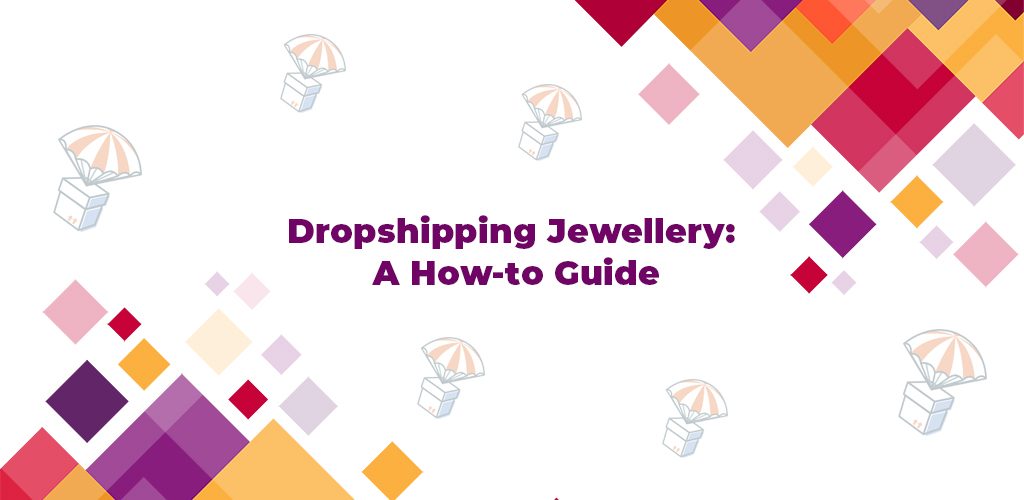 Ahhh, jewellery. Whether customers are purchasing for themselves to complete an outfit, as an investment piece, or they're buying it as a gift for a special occasion like birthdays or Christmas, jewellery has always been lucrative for retailers. So much so, the global luxury jewellery market is expected to almost triple in value over the next fifteen years. And that's just luxury jewellery – high-end, pieces made by designers from fine metals and precious stones such as diamonds and rubies.
Fashion jewellery – less expensive pieces that are made from lower quality materials – has always been popular, and we expect that sales will continue to rise. If you love jewellery, but you're not one of the lucky ones who has the talent to make it, then selling it might be a logical move – whether you want to make a career out of your business, or you just want to sell on the side.
Why start a DropShipping business?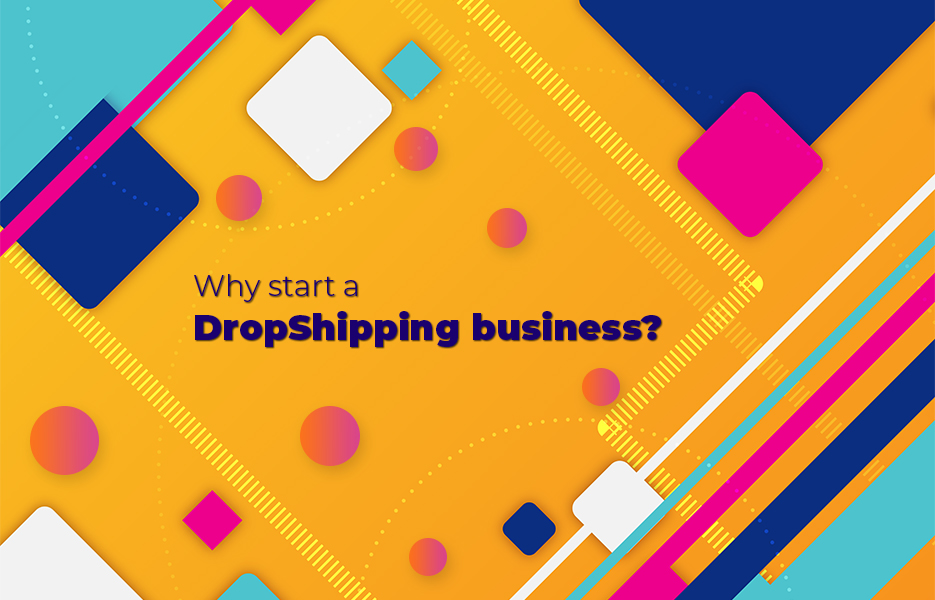 There are any number of reasons that might be motivating you to start a business DropShipping – whether it's being able to give up full time work to spend more time with your family, to earn extra money for travel, get experience in business, or a side hustle to add to your retirement pot, DropShipping can be a great way to meet those needs.
There's relatively little risk involved with DropShipping, since there are ways that you can start your business with absolutely no cash up front, the only thing you'll really need is a bit of time to invest. That doesn't mean you have to give up your day job immediately though – or ever, if you don't want to. The flexibility that DropShipping offers means that you can do it for as long as you like, and create a business that is as big as you like. And since eCommerce is an always-on industry (exact figures aren't available yet, but look at how many orders were expected on Christmas day in 2019!), you can manage your business whenever you have time. If you have an hour each way on your commute to your day job, that's ideal time for working on your DropShipping business.You don't even need to get a seat on the train (although, having done big commutes ourselves, we hope you do!) since you'll be able to handle most of your business from your smartphone.
To cut a long story short: you can start your DropShipping business with no money, and manage your business anytime, anywhere, as long as you have an internet connection.
What is DropShipping?
If you're reading this post, then you probably already know the answer to this question – however, here's a quick recap, just in case you've forgotten:
DropShipping is a retail fulfilment method, where the seller doesn't hold stock, but engages a supplier who sends orders directly to customers on their behalf.
When the customer places, and pays for their order, the seller immediately buys the items(s) from a supplier at cost price, plus a fee. The supplier then does the rest – they pick, pack and dispatch the order directly to the customer. The seller never sees or handles the order – their job is simply to sell the products.
However, if you're asking this question, then we definitely recommend you head for our Ultimate guide to DropShipping. It's a long post, but it covers pretty much everything you might need to know about DropShipping, somake sure you've read it before you start thinking about building your business.
Why jewellery is great for DropShipping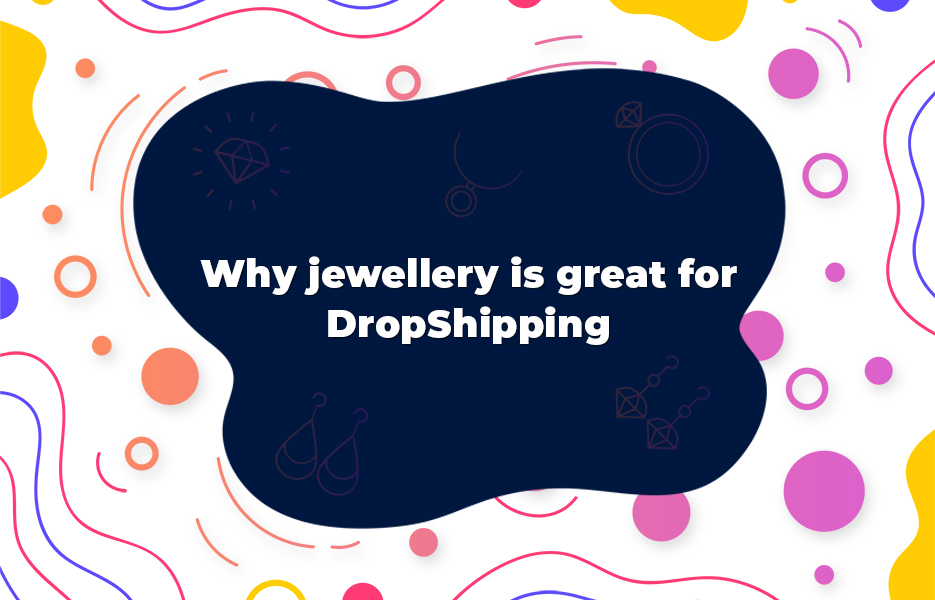 If jewellery is on your radar for your DropShipping business, we don't blame you. There's a lot of reasons that jewellery is perfect for DropShipping – so let's take a look at some of those reasons before we get into how to get started.
Jewellery items are small
Small items are easy and inexpensive to ship. When you're not having to spend much on postage, your profit margins aren't affected as much as they might be with bigger items. Not only that, because packages containing jewellery are small, they can generally be posted through letterboxes. That means fewer customer service issues for you to deal with, such as when a parcel hasn't beenreceived, and you should encounter fewer comments and complaints about having to collect packages from the Post Office.
Low cost = better margins
One of the big challenges of DropShipping is the fact that profit margins can be razor-thin – in some cases, fractions of pennies on each item. Many suppliers charge relatively low prices for jewellery – especially items of fashion jewellery – due to the smaller amount of storage space that is required, and the lower postage costs that are required.But those low prices mean thatyou have the potential to sell each item for a bit more, increasing your overall potential profits.
Easy to update and capitalise on fashion trends
Spotted a new trend that you didn't expect? You don't have to miss out, since your supplier will be manufacturing, or procuring those items as fast as you see them. If you're using a DropShipping platform that allows you to work with multiple suppliers, it can be incredibly easy to update your range per season. Creating a great range and adding new lines regularly will keep your customers interested coming back for more.
No risk of dead stock
Since you're not having to buy stock from your supplier, you're not at risk of having to discount items in order to free up space or cash. Your supplier takes care of dead stock for you – you're literally just making the sales. That means when a trend stops being lucrative, you simply stop listing those items, and start listing what will make you money the next season. No clearance items, and no sale section on your website required – unless you want there to be.
You're not left with broken stock
The problem with jewellery – particularly fashion jewellery – is that it can be incredibly delicate. That means that tangled necklaces, broken clasps and missing stoneshave to be dealt with. If they're not repairable, or it isn't worth repairing them because the cost of the repair is more than the cost of another item, then broken items become dead stock. As we mentioned above, dead stock is definitely not desirable, but isn't an issue for sellers that are DropShipping, because your supplier is dealing with those problems for you.
Your supplier takes care of hygiene issues
This is a major plus when it comes to items like jewellery for piercings. Although it's advisable to clean earrings and so on before wearing them, many people don't –leaving customers at risk of potential infection. For intimate piercings especially, items need to be packaged appropriately, with stickers to show the package hasn't been opened, for example – to minimise this risk. Luckily for you, when you're DropShipping these items, you don't need to worry about this issue, as suppliers will take care of this for you.
It makes a great addition to other stores
If you're already a proud owner of a DropShipping business, perhaps selling gift items or fashion, then adding jewellery to your items is a great way to extend your offering. Particularly with fashion stores, adding jewellery and other accessories just makes sense – you can cross-promote jewellery items on your website that help to complete an outfit, or use your social media to talk about how customers can get high-end looks for less.
Step 1: Identify jewellery itemsto sell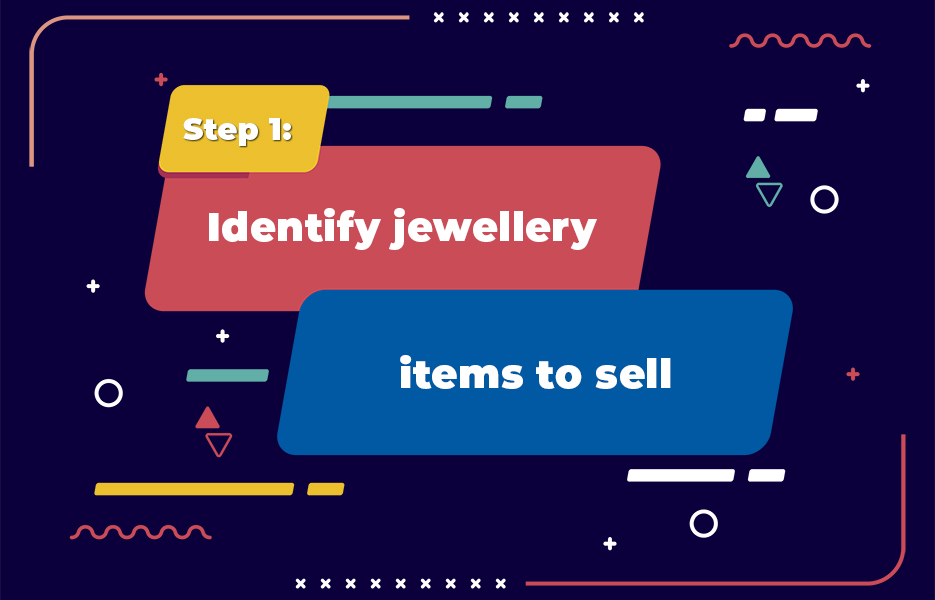 The first things that come to mind when thinking of jewellery are often rings, necklaces, bracelets and earrings. But they're not the only options! Chokers, collars, brooches and anklets of different styles are in demand – as well as body jewellery for piercings.
In addition to traditional jewellery for women, there is a growing market for men's jewellery, and even quality jewellery for children. You might look at DropShipping jewellery items from different countries and cultures, especially if you can identify a gap in either the domestic market, or in another country.
Categories of jewellery
You're probably already aware of the difference between fine jewellery and fashion jewellery if you're already thinking about selling it. It's definitely something to be aware of, especially if you're planning to sell on marketplaces like Amazon, where there are strict rules about categories. If you sell fashion jewellery in the fine jewellery category, you might find your listings being removed, or (in the worst case scenario) have your seller account suspended. Marketplace rules aside, if you're selling fashion jewellery and you've used 'fine jewellery' all over your website, you're unlikely to get the right traffic to your website – which means fewer chances of sales. Let's take a quick look at the difference.
Fine jewellery
Fine jewellery is typically made from solid gold, sterling silver, platinum or other precious metals. It's much stronger than fashion jewellery, and often includes genuine (not man-made) gemstones such as diamonds, rubies and sapphires.
While the status that is implied from having a business selling fine jewellery might be appealing, you may not be able to make the sort of sales you might like using the DropShipping model. Analysis suggests that most customers are likely to buy more expensive items of jewellery at traditional retail outlets, since customers want to touch and feel the quality of the items before they make their decision. Although you might be able to find fine jewellery at a great price, customers are likely to be wary if you're selling items in this category too cheaply, and assume you're passing off cubic zirconia as diamonds.
Fashion jewellery
Often also referred to as costume jewellery, fashion jewellery items are made from cheaper materials such as brass, coper or aluminium – metals that can bend and tarnish easily. If stones are used in fashion jewellery items, they're often plastic, or simulated stones. Swarovski crystals fall into this category too – but if you're DropShipping items with Swarovski crystals, or mid-range designer branded fashion jewellery, you might place them a category on your website called semi-fine jewellery.
The fashion jewellery market is expected to grow by between 10-15% in 2020, and some research suggests the market might reach as high as $52.4 billion by the end of 2025 – so now is a great time to jump in and start DropShipping fashion jewellery.
Semi-fine jewellery
Semi-fine jewellery isn't a term that experts or authenticators will tend to use, but it can be useful for helping customers to understand the type of jewellery that you're selling. Often items labelled as semi-fine jewellery will include gold filled or gold vermeil, and contain more affordable gemstones such as morganite or opals. Some enhanced stones might be used – cheaper gems that have been treated with heat or chemicals to make them appear clearer, or to change the colour.
Some retailers are applying this term to fashion jewellery that is of higher quality, but is still ultimately fashion jewellery. That might apply to mid- to high-fashion labels such as Ted Baker and Michael Kors.
What to consider when finding jewellery to DropShip
Once you know what sort of jewellery you want to DropShip, then you'll need to start sourcing those products. There are plenty of things you'll need to consider – we're going to take a look at some of those things here, but you might have other things you need to think about – so use this list as a starting point.
Avoid fakes
Aside from issues with copyright and so on, if you're DropShipping fake items, they're more likely to be made from cheaper materials. That opens you up to potential complaints if a person who is allergic to nickel ends up wearing a piece they think is made from solid silver or gold, for example.
They're not the only problems you might get with fakes and copies though. If you've sourced an exact copy of a designer item, you're likely to end up with reviews being left on social media about how your items are inferior – and it doesn't take many mentions of the word 'fake' to deter customers from buying from you. Take our advice – it's not worth dealing in fake items.
Ethics
Although fashion jewellery will almost certainly be a thing as trends come and go, with greater awareness of the need for sustainability, 'slow fashion' and ethical fashion is becoming increasingly popular with customers. Customers are looking for items that they can wear for years to come, and that are created ethically. We're talking about tracing materials back to their source, ensuring use of conflict-free diamonds and Fairtrade materials and potentially even using recycled materials. That might be something you decide to focus on, and if you do, be sure to make it clear on your website that this is something you're passionate about. Many customers want to know that their new piece of jewellery was made by people who receive a fair wage and work in suitable conditions, without using practices that pollute the environment.
Use of plastic
With a focus on sustainability becoming a bigger issue globally, it's worth taking a moment to communicate with your supplier about their use of plastic. Whether the plastic is in their jewellery items, or they're shipping in plastic, customers are ever more mindful of this, so encourage your suppliers to reduce their use of plastic if they can. If jewellery can be sent in a fabric bag inside a small box that is recycled and can be recycled, customers are more likely to look on this favourably and make additional purchases from you.
Quality of the products
When you're DropShipping anything, it's a good idea to test your products. When it comes to selling jewellery, testing is even more important. We're not saying you need to order one of everything from your suppliers and try it all, butit's a wise idea to order a few items, so you know the quality your customers can expect. We recommend – if you can – ordering at least one low-priced item and one mid-range item, so you're confident about selling that supplier's items, and so you're less likely to encounter complaints and returns.
Use multiple suppliers
If you're curating a particular aesthetic, or look for your brand, then working with just one supplier might not be enough to fill your store. Using multiple suppliers will enable you to fill your store much more effectively, and should you encounter an issue with one supplier, you'll be able to continue to trade by selling products from other suppliers. The easiest way to do this is by using a DropShipping platform like Avasam, which allows you to work with as many suppliers as you like – and you won't even need to pay for many up-front either!
Add-on products
Once you've found the type of jewellery products you're looking for, think about what else your customers might be in the market for. Jewellery is often given as a gift, so having other gift ideas such as jewellery storage boxes and travel cases is a great was to make additional sales. You could even offer a whole range of these type of items with different themes, colours, sizes and designs. Just make sure you're including plenty of detail in your listings – how many earrings do they hold, depths of trays and so on.
Although jewellery cleaning items are popular items on marketplaces already,consider adding cleaning solutions, trays and machines to the items you sell. You might not make heaps of sales on those items, but every sale counts!
Step 2: Find what is trending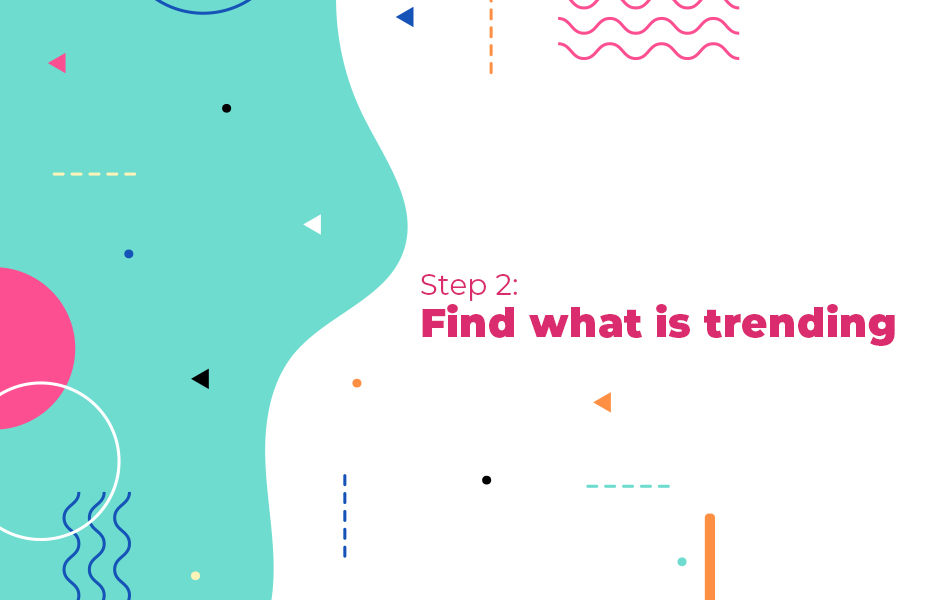 Staying current of trends is key for businesses that are DropShipping jewellery. Customers have a lot of choice available to them, and they're constantly looking for the latest fashions at the best price. There are quite a few ways you can find out what the latest trends and fashions are in jewellery, but here are some useful ideas to get you started.
Google Trends
Google Trends can help you identify the popularity of search terms over time and in different locations. Mark recently took an in-depth look at how Google Trends can help your business, and so we won't go over all that information here. For now, we'll just say that Google Trends are a really good way to identify whether the search term is going up or down. To find out more, head for Mark's post.
Social media and blogs
Following influencers will give you insights into current trends that customers will want to emulate quickly. If you're looking at mainstream fashion jewellery for your brand, a great place to start is this list of top fashion influencers from Who What Wear. Of course, there are influencers in almost every niche, including men's fashions, so find the influencers that you'd love to see wearing your DropShipped jewellery and follow them on Instagram.
Look to fine jewellers and fashion houses
Although you'll be able to find items that will suit your business without looking at them, you'll be able to capitalise on trends by keeping an eye on major brands. Monitor what new lines fine jewellery brands like Tiffany and Co, Cartier and Bvlgari are launching, as they will undoubtedly guide the designs of lower priced jewellers.
Don't just watch what jewellers are doing though. High fashion and couture brands may use different types of fashion jewellery, or come up with a new way to wear a piece that inspires a new trend. If you're already selling items that suit that trend, or your supplier has pieces that suit the trend, then adding them to your store – alongside great social media images – can keep your sales going strong. Remember, if you're using a DropShipping platform, that might take just a few clicks!
A word of warning though – when you're looking at items from high fashion, well-known brands, don't be tempted to sell knock-offs. Items that are inspired by these brands is fine – but out and out copies is not. You don't need the hassle of a copyright lawsuit because you're selling an exact copy of a Cartier Love bracelet in a red box and a customer complains to them.
Step 3: Find your jewellery suppliers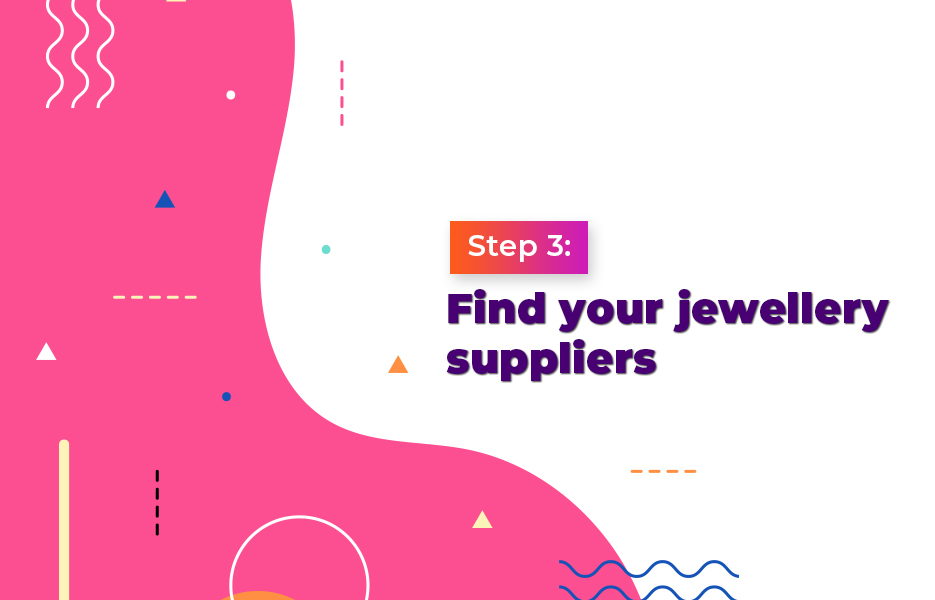 When you're DropShipping, finding reliable suppliers is essential to your business. Your reputation depends on them – you don't want to encounter negative reviews – ever, really, but when you're just starting out, it's even more important to avoid them. You could DropShip from sellers on marketplaces like AliExpress (we talk about that in a moment) but you're never guaranteed quality or service. That's why building a business relationship with a reliable supplier (or a number of them) that will provide excellent customer service is a wise move for any DropShipper, but it's especially important for jewellery sellers.
DropShipping platforms
We talk about DropShipping platforms all the time – it's our business, after all. Since so many Avasam sellers tell us how much easier using our platform has made DropShipping, using a platform is definitely a trend for DropShipping in 2020 and beyond. They give you access to so many more suppliers, and you'll have the security that should there be an issue with a supplier, you won't be left out of pocket.
If you're using suppliers through a DropShipping platform, you won't have to monitor whether your items are in stock or not, since supplier stock levels get updated regularly. That means no risk of overselling, cancelled orders or complaints. You can work with multiple suppliers too, so you can curate the perfect collections for your customers.
Marketplaces
Remember our post about DropShipping with AliExpress? In that post we talked about how you can use AliExpress and other marketplaces to DropShip from sellers and suppliers in China. Much of that advice applies to other marketplaces too – if you find a great item on Wish, for example, you might list it on your website and then buy it from the seller when your customer places their order. If you're going to do that though, you'll need to be careful to make sure the item doesn't go out of stock, and that your customer is aware of the amount of time that shipping is likely to take.
As we talked about in that post, there are quite a few reasons that DropShipping from sellers on marketplaces can be problematic. You're not buying from manufacturers, and so there's no guarantee that your customer orders are going to be good quality products, and your customers will have a much longer wait for their items to be delivered. Those issues around quality and delivery times might mean you end up issuing refunds that will leave you out of pocket. Not only that, if you encounter problems with an order and you need to get a replacement, if you're DropShipping from overseas (as many sellers are on AliExpress) then you might find it difficult to communicate with those sellers – especially when you consider time zone differences and language barriers. It really is much easier to use domestic suppliers, and you're less likely to encounter any of these issues.
Trade shows
If you're already in business DropShipping, you might have already started to attend trade shows. If you're considering DropShipping jewellery and you want to know the quality of the items that your intended supplier will provide, trade shows are a good way to see examples of stock. Spring Fair and Autumn Fair are great examples of trade fairs that take place annually, and if you're attending Spring Fair in February 2020, you'll be able to see our CEO Tejas talking about DropShipping. If you're there and spot him, say hi!
Step 4: Sell jewellery on marketplaces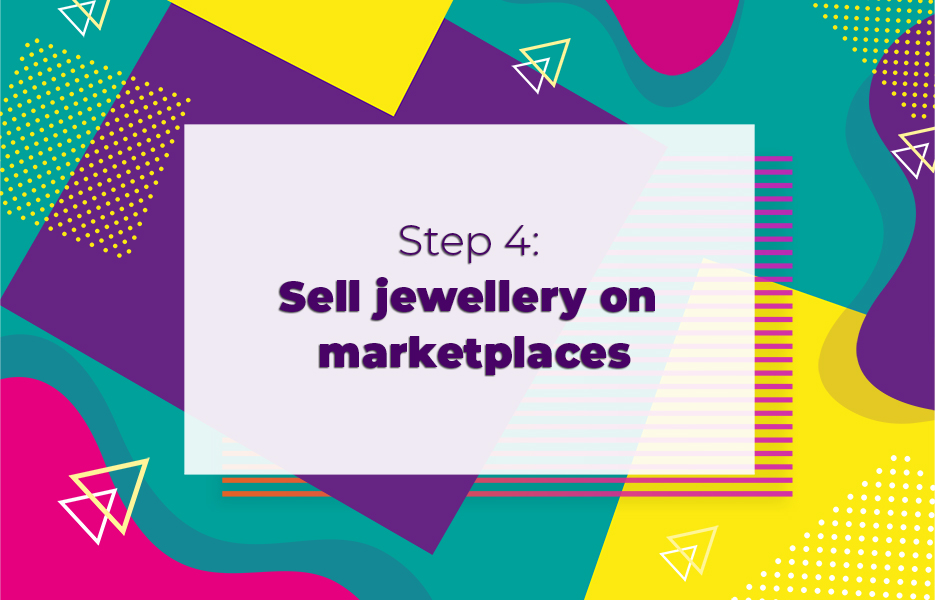 When you're DropShipping jewellery on marketplaces, there are quite a few things to consider. In our post about how to pick your sales channels, we talk about what arethe crucial things to consider when you're starting your business and choosing where to sell. That post covers almost everything you might want to know about choosing sales channels, including the pros and cons you might encounter when selling on some of the biggest marketplaces. We're not going to add all that information about all the different types of marketplaces again here – we'll just do a quick overview, and if you need more information, head back to that post.
When choosing your marketplaces, you'll need to consider the type of items you're selling, and you'll definitely need to go back to your target customer profiles. Your target customer research and information is going to be invaluable to you here – because if your target customer isn't likely to shop on a certain marketplace, then you don't need to waste time or money trying to make sales there.
We can't talk about selling online without mentioning eBay and Amazon – they really are the two marketplaces that most sellers consider first – but they might not be the right places for you to sell. Don't get fear of missing out – your choice of marketplaces can be flexible as your business grows and demand changes. Your marketplace strategy is unique to your business, and there's no right or wrong places to sell. What works for another company might not work for you, so factor in time for trial and error.
Ultimately though, we recommend not relying on a single marketplace for your DropShipping success. Multichannel DropShipping is a relatively new term, but it perfectly suits what is a strong strategy for your business – DropShipping on multiple platforms. Should you encounter a problem with your account on one of your sales platforms, your business isn't going to grind to a halt – you can keep making sales on other marketplaces.
Sell on eBay
Customers head for eBay when they're looking for all kinds of items, not just jewellery. We took a look at DropShipping on eBay on the blog just before Christmas, so if you're considering eBay as one of your sales channels, then definitely head there for more information. However, it's easy to start selling on eBay, and there are millions of users worldwide. You can sell on international eBay marketplaces – currently there are 23 of them – with relative ease.
eBay might not be perfect for your business, depending on where you are in your business and what you're trying to achieve. If you're testing new products, eBay might not be right for you – since they charge a listing fee per item as well as taking commission on each item sold. It's also worth bearing in mind that eBay doesn't allow for as much customisation of your store as they used to.That means that when customers tell friends or family where they got their item, they will say they got it on eBay, rather than from you, and you can't use eBay to build brand awareness.
Sell on Amazon
You can sell almost everything Amazon (almost!) and so it stands to reason that there will be plenty of customers searching for jewellery on Amazon too. But there are many challenges when it comes to DropShipping on Amazon – not least the sheer amount of competition you're going to be up against. We talk about the challenges – and advantages – of selling on Amazon on this post, so we recommend being fully armed with the knowledge in that post before signing up for your Amazon seller account.
Sell on bargain marketplaces
Marketplaces where bargains are sought, such as Wish, Groupon andFyndiq might not create the greatest returns. On those marketplaces, you're up against sellers and suppliers who have tiny margins on those platforms. That means unless you have a specific reason that they might buy from you rather than from the cheapest seller, they're more likely to do what we all do, and buy from the cheapest. With that in mind, marketplaces promoting bargain products might end up leaving you out of pocket – especially if they charge you a listing fee per item, so make sure you do careful research before you get started.
That said, the Tophatter marketplace could be an interesting, and potentially lucrative prospect for businesses that areDropShipping jewellery. Tophatter is run as a super-fast auction website, meaning that there are many opportunities for customers to make impulse purchases. And those impulse purchases give you plenty of opportunities to make you money.
Consider international marketplaces
International marketplaces may be lucrative – especially because postage will be inexpensive, even internationally – and customers may be looking for something different from what is currently fashionable in their culture. Selling on international marketplaces isn't without it's challenges – not least because there may be language barriers – but that doesn't necessarily mean you shouldn't look into them. DropShipping platforms like Avasam give you instant access to selling on international marketplaces, and if your supplier uses barcodes, some marketplaces can do your translations for you. Don't miss out on those sales!
Step 5: Set up a store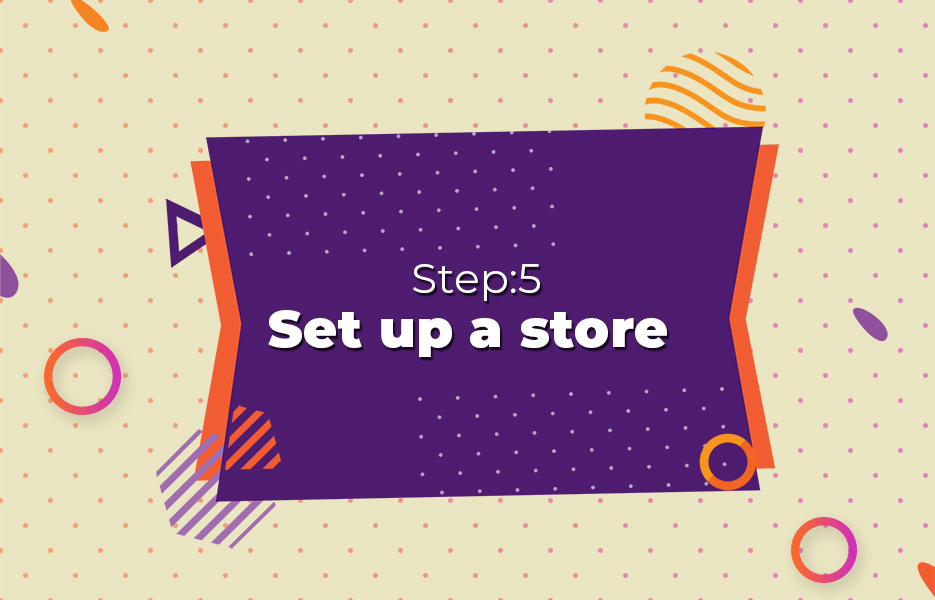 Once you're selling on multiple marketplaces, you might look to invest some of your profits in your own website. And it makes sense to, since you won't need to wait for your payments or pay to list your items. If you're looking to cultivate a brand with a specific aesthetic, then an eCommerce store is a good idea.
Which online store builder is best?
This is a great question, but one we can't give a definitive answer to, since each business has it's own needs, and business owners have different skills and levels of technical ability. However, we can point you in the right direction! Whichever shopping cart you decide to go with, you'll need a reliable, secure setup that allows you to build everything your business needs now, and in the future.
We know there are many sellers who use Magento and WooCommerce to build their websites. With so many customisation options, there's no wonder that sellers choose them.Both platforms have incredibly active communities of developers, and there are literally thousands of extensions, plugins and addons available, at little to no cost.
Shopify is another incredibly popular way to create an eCommerce website. If you don't have many (or any!) technical skills, but don't have the funds available to employ a web developer, Shopify is definitely a good option. It was created specifically to make setting up new eCommerce websites easy, and again, there are loads of different options you can use to customise your website. Many of the apps and add-ons will cost you though, so as we always say – make sure you do your research, and make the most of trial periods to make sure your website will suit your needs.
Although we've talked about the three most popular eCommerce website builders here, there are plenty of others available. We went into the ins and outs of different websites on our post about how to DropShip on Shopify – so head there if you don't think Magento, WooCommerce or Shopify are right for your business.
Step 6: Consider your pricing strategy carefully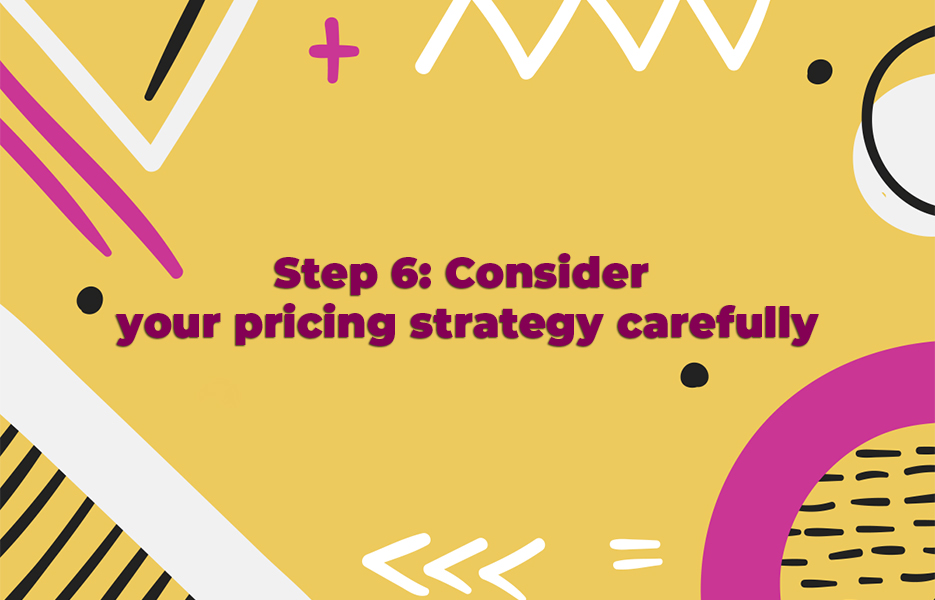 Finding the right pricing strategies can be very tricky – especially when you're DropShipping and you need to maintain your profit margins. Customers are always looking for the best price they can find, and they're shopping around before they commit to their purchases. We all do it when we're shopping online – even if we're only looking on one marketplace.
Below, we're going to take a quick look at some of the pricing strategies you can apply to your business. Not all of these will suit your business, and so you should consider each option carefully. Too many free + shipping, or loss leader items will mark you out as a discounter, and your customers will only want to buy from you at these rock-bottom prices. Think about your target customer, and your brand before starting to use any of these strategies. And yes – it is absolutely OK if you decide not to use any of these at all – we're simply giving you options.
'Free + shipping'
We see this type of promotion on Wish all the time, and it's incredibly attractive to customers – who doesn't want something for nothing? However, use this strategy wisely. Be clear about the cost of shipping on the listing page, and don't make it too expensive. If you say your item is free, but the shipping is £10 for a tiny item like a ring, then customers know what you're doing, and they're likely to get annoyed and leave your listing.Using this approach has the potential to discredit your business and looks like you're pedalling a scam. If that customer has made it to your website, don't let them leave thinking you're a fraudster!
Done right though, this strategy can work well, especially if you're selling other fashion jewellery items relatively inexpensively. You can also use the free + shipping tactic as a special offer to attract your social media followers to your website and cross-promote other items that might complement your free + shipping items on the listing page.
Anchor prices
If you've secured a stellar deal from your suppliers and you're able to sell products at below recommended retail price (RRP), then tell your customers! They want to see how much of a great deal they're getting, which is why discount stores like TK Maxx do so well. By adding the RRP to your listings, you're telling customers how much of a bargain your item is, and how much it will cost them with another retailer. That means they're more likely to add to cart and check out immediately, rather than continuing to shop around.
You can apply this strategy to your listings on both marketplaces and your website, but as always when it comes to DropShipping, you'll need to check your margins. Some customers will be happy with a discount of just 5% and feel they have a great deal, so experiment to see what works best for your business.
Bundles
Bundle prices are really popular on marketplaces like eBay and Groupon. You probably know what a bundle is already – but essentially, it's a main product, sold with additional items, for a great price. In the case of jewellery, you might sell a necklace, with bracelet and a ring, plus a 'free' roll case as a promotion. Of course, you'll have factored in the price of all these items, and you'll still be making a profit – but your customer thinks they're getting a fantastic price.
When using this strategy for DropShipping, it's worth bundling items from the same supplier – so your customer doesn't end up contacting you when they receive half of their bundle. Also, as always – make sure you don't price your bundle too cheap, otherwise you'll find yourself out of pocket.
Dynamic pricing
This is a bit of a no-brainer really, since you'll almost certainly be doing this intuitively. Dynamic pricing is simply setting your prices in line with demand. For fashion jewellery, you might increase prices when one of the major fashion houses sends models down the catwalk wearing a certain item, or you might price according to the time of the year.Casual jewellery items with seashells and natural materials are typically more in demand in the summer months, whereas glamorous items with lots of sparkle ramp up from the end of October, in preparation for the holiday party season.
However, think about your international customers when you're setting prices this way. If you have customers in the southern hemisphere, don't forget their seasons are reversed. At first, you might not think this applies extensively to jewellery, but make sure you're doing your research so you're less likely to miss out.
Loss leaders
We hear about these items in traditional retail all the time – supermarkets selling something incredibly cheap with the reasoning that while the customer is there, they will buy other items. The loss leader product makes little to no profit at all, and it is the other products that the customer buys that the store makes their profits on.
It's a strategy companies that use when they have items that require customers to re-engage with their brand. Let's use the example of razors. Companies like Gillette and Wilkinson Sword sell their razor handles relatively inexpensively – because they know that once the customer has the handle, before long they will need new blades. The consistent buying of the blades are where they make their money, and once the customer starts to identify their razor as part of their routine, they're more likely to buy extras like shaving gel, aftershave balms, moisturiser and so on.
Loss leaders aren't likely to work for DropShippers, especially on marketplaces. You might make loads of sales with this strategy, but unless you're looking to make fractions of pennies on each sale, it's probably not best. You might use it as a way to get your social media followers to your website though. So, as an example – you might promote a very cheap, but attractive bracelet to your followers on Instagram, Facebook and Pinterest, and then cross-promote your other items on the landing page. Once the customer is on your website and can see other items they might like, they might add other items to their cart – making you additional sales.
Step 7: Promote your products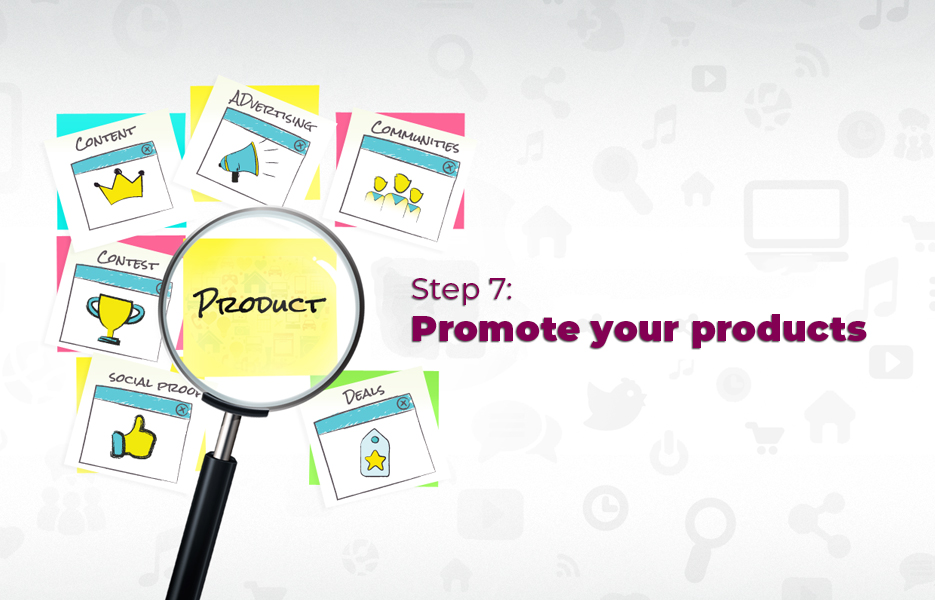 Just because you're listing your products, and you've got great prices, doesn't mean you'll make the amount of sales you want. The biggest thing you can do to boost your sales is to promote your products – so make use of your social media channels, build your followers and encourage them to visit your websites with special promotions. We've talked about different social media channels and marketing on our blog before, so if you're new to this, browse through to get some more ideas.
Social media marketing
Your social media channels are going to be at the heart of your DropShipping business. When you're DropShipping, you never actually handle the item that your customer has ordered. While you're testing items from your supplier, use that time to create some great content for your social media channels. Make a video for your Instagram Story and another for your YouTube channel, and get creative with flat lay photos, as well as more traditional shots of your jewellery items being modelled. You don't need to find actual models – real people who suit your target customers, and who the jewellery suits (and fits!) are perfect.
Get great reviews
Once you're making sales, you'll need to get as much feedback as you can. Feedback won't just help you to decide whether to keep selling certain items, it will also help your customers decide whether to buy the item, or to buy from your store. So invite your customers to leave feedback, and list your business on review websites like Trustpilot and Feefo.
Step 8: Maintain customer interest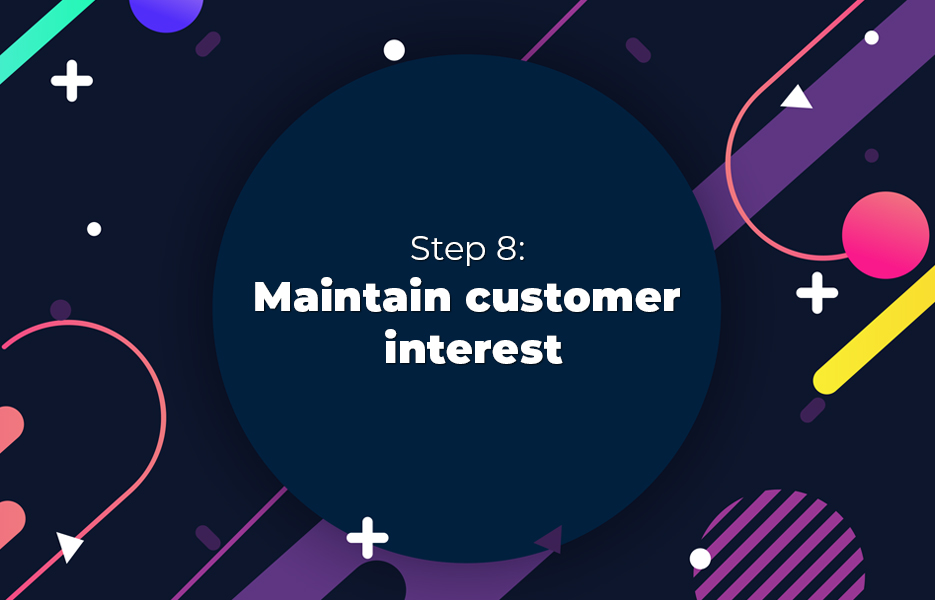 Starting out just selling jewellery is great, but once you've built your social media following and you're making great sales, then what? Winning new business is harder than encouraging repeat business, so do your best to keep your customers engaged. Working your social media channels will go a long way to this, but there are other tactics you can use. Here's a few ideas – but there are loads of others that you might try and find bring you great success.
Switch your products regularly
Clearly, we're not going to tell you to stop selling your best-selling items, but switching up your range regularly is a good way to maintain customer interest. Depending on what you're selling, you'll be able to establish when to bring in new items –whether you add new lines weekly, monthly or quarterly with the seasons. You might addlines for alimited time for annual holidays – Valentine's day, Halloween and Christmas are ideal for this.If you're DropShipping with a platform and have access to multiple suppliers, you can add products and remove products instantly, without worrying about dead stock.
Curate collections
While we're talking about seasonal items – curating ranges of what you expect to sell well in the upcoming period can work well to increase sales. You can do that on your website, but you might also do it on Pinterest and Instagram, and promote these collections across your social media to increase traffic and purchases. Those flat lays we talked about earlier are great for this, but you might also put together 'gift guide' type content for your blog, or on a YouTube video. The possibilities are endless for this – but make sure you refer to your target customer profiles, so you can post these where your customers are likely to be looking for them.
Extend your range
Although you've started out selling jewellery, why stop there? Customers who are looking for fashion jewellery for a certain occasion – let's use a woman attending summer wedding as an example here – are often also looking for other accessories. Adding cover-ups like shawls or pashminas, or headwear such as fascinators and hats, as well as hair accessories andsilk corsages are a great way to extend your range and make additional sales during wedding season. Of course, these types of products are applicable to other times of the year, but in different styles – you'll just need to pay attention to the latest fashions.
Bags and purses are another great addition year-round, as are watches– especially if you can find products that have details that complement your jewellery, and create a cohesive look that you can show on your curated collections. From there, you might decide to add shoes to your offering, and then perhaps a line of clothing – and before you know it, your business has far surpassed anything you ever dreamt of!
The Takeaway
Jewellery sales are unlikely to drop any time soon, meaning it's a great option to start a new DropShipping business. But as with all new businesses, there's a lot to think about when you're setting up a business DropShipping jewellery, and although there will be similarities between many businesses, there are so many variables between each business owner, and their aims that it's not possible to give a definitive guide of the exact steps to take. However, using our framework here is a good place to start.
If you're ready to start your business DropShipping jewellery, take a look at Avasam – it's free to start, and there are thousands of lines available.