Valentine's Day planning 2021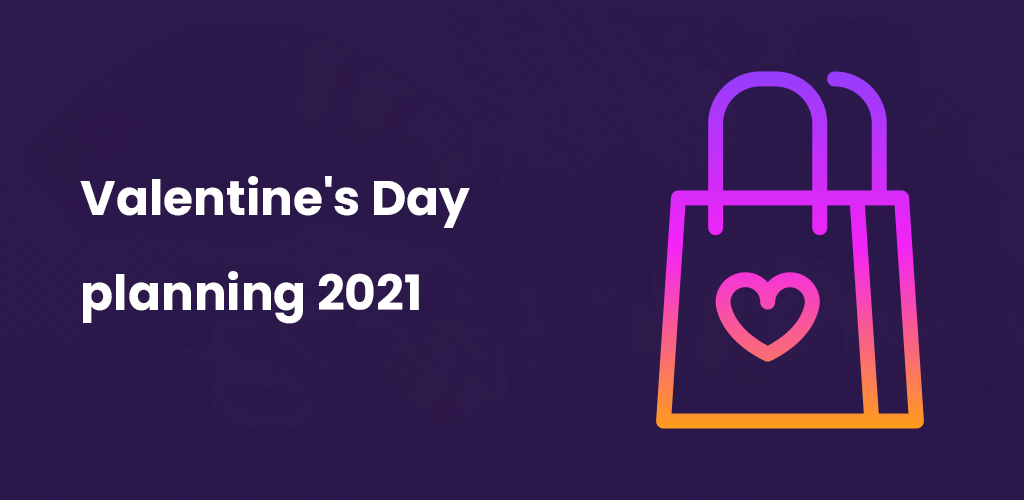 If you've been in retail for any amount of time, we probably don't need to remind you about the potential that Valentine's Day has to offer. In fact – most people in the UK are likely to be well aware of the allure of February 14th, whether they plan ahead to get the perfect gift for their beloved, or they nip into the nearest supermarket on their way home to grab a card and gift. While there are many people that are dismissive of Valentine's Day, referring to it as a 'Hallmark holiday', we think that with the current lockdown situations there will be many that choose to order something for their partners, as a little treat and something to look forward to.
With that in mind, this year is unlikely to be the year that the usual red and black merchandise is a big seller, or soft toys with sentimental messages on them. There will always be those type of sales, but we think customers are likely to be shopping more thoughtfully, looking for gifts that their partners actually want, as opposed to a token gesture. For retailers, that means a huge amount of chances for marketing those products, and to make additional sales.
Although you might be thinking it is a bit late to capitalise on these sales, you don't need to buy stock to make sales on seasonal items. Here are a few suggestions for Valentine's Day items that you can source from Avasam suppliers and start making sales on immediately.
Lingerie and underwear
It might be an obvious one, but Valentine's Day has been a huge opportunity to sell lingerie for years – because it works. Romantic meals (even if they are of the take-away, or home made variety) often leads to romance in the bedroom – and everyone wants to look great for that. Add lingerie, and underwear options for men to your inventory, and you're likely to increase your sales. The great thing about selling lingerie from Avasam suppliers is that you're never going to be left with sizes that don't sell – once the design or style stops selling, you can stop selling too.
Adult toys
We have mentioned adult toys on the blog rather a lot of late – but for great reason, since the category is a big seller. It is a pretty obvious category of products to source and make sales ahead of Valentine's Day, but it is likely to continue to sell well year round, and definitely in quarter four for Christmas gifts too. Since we've spoken about it a lot lately, head for this post for more information about selling adult toys.
Perfume and aftershave
Another tried and tested, guaranteed to be a winner gift idea for Valentine's Day (and Christmas, if you're planning ahead!). With so many scents available, it makes sense to source and sell as many as you can – and our suppliers have plenty of options for you. From long-standing household names such as Burberry and Dior, to relative newcomers such as Viktor & Rolf, as well as perfumes with more accessible price-points such as Sarah Jessica Parker, there is a huge range for you to choose from.
Candles
Can you even have romance without candles? That's a silly question, because of course you can, but in winter lockdowns, customers are looking for ways to increase the romance and to make their homes feel just that little bit more special. With Valentine's Day falling towards the end of winter too, the need to feel that bit more snug – whether with, or without your loved one has always been an issue. Avasam suppliers have a large range of quality Price's candles with great profit potential, without needing to fill your warehouse with an overpowering mix of scents.
Self-care gifts
Whether customers are buying as a little treat for themselves ahead of their Valentine's Day date, or they're buying as a gift for their significant other, self-care products are a strong-selling item at this time of year, as well as during quarter four (of course!). This applies to products for almost everyone – from masculine products such as shave gels and after-shave balms, through to items of makeup.
While the US tradition of giving gifts to friends and relations on Valentine's Day hasn't made it to the UK in most cases, with the current pandemic situation, customers are looking for other ways to show affection for their loved ones. We're expecting to see an increase in orders of mid- to higher-end self-care products, from well-known brands to incredible natural and organic, non-allergenic formulas.
Specialist cookware
Since the options for Valentine's Day meals this year are limited to cooked at home or take away, many customers are looking for ways to make it memorable. That means they're spending the cash that they might have normally spent on a meal at a restaurant to make things a bit different – especially if they're cooking for their partners. Items such as Teppanyaki table top grills, brownie makers and air fryers are just a few of the products that are certain to sell over the Valentine's Day period. And since you don't need to invest in stock, you won't be left with products that need to be cleared at a lower price once demand has slowed down.
Branded items on marketplaces
We've mentioned about this on the blog before, but it is essential that you pay close attention to marketplace guidelines when you are sourcing and selling branded items. In a nutshell, without permission from the brand owner, businesses aren't allowed to sell branded products. This is in place to help eliminate counterfeit and knock-offs, and breaking those policies can lead to your seller accounts being suspended. If you want to source and sell branded items from Avasam suppliers, you can do so through your own website with no risk, with the benefit being that you won't be competing with the brand owner's prices directly.
To find out more about selling branded items on marketplaces, see our post here.
The Takeaway
Our team have made it easier than ever to browse our catalogue and source items that are suitable for Valentine's Day by curating a list of items that are perfect for marketing during the run-up to Valentine's Day. When you log into Avasam, there's a link on the home page – so you don't even need to search.
If you're looking to extend and diversify the inventory for your eCommerce or retail business with little to no investment required, you can get started with your free Avasam trial here. We know that many businesses have unique needs however, and if you want to discuss how Avasam will fit with your existing setup (and it will!) book a call.
Whether you take advantage of some of these gift ideas for your significant other, or you're more interested in the sales potential of the day, we wish you all love throughout 2021, and a happy Valentine's Day!